The 2021 contest will accept stories from April 15, 2021 until June 15, 2021 at 11:59 p.m. Winners will be announced at the Capclave Convention held October 1-3, 2021.
The Baltimore Science Fiction Society holds its annual Amateur Writing Contest to promote the creation of quality genre literature in the state of Maryland. Any short story that falls into the "speculative fiction" genre--science fiction and fantasy in all their forms--is welcome. Urban fantasy, hard science fiction, dark fantasy, it all counts as long as the work has a speculative element.
"Before I placed in the contest, I didn't really take myself seriously as a writer; writing was one of those things that I enjoyed and did when I got around to it, but I never went out of my way to make time for it and I didn't really think of myself as a writer. Placing in the contest, attending Capclave, and participating at Balticon changed all that. I take my writing much more seriously now. I think I've written as much in the past 18 months than in the preceding 5 years or so. I'm even about 40,000 words into the rough draft of a novel, which I don't think ever would have happened without getting the extra push for BSFS. You mentioned in the page for the original contest that you wanted to help amateurs reach the next level, and you absolutely did that for me." - Rachel Kolar, 2013's second place winner
See the other past winners here.
What are the basic rules?
We're looking for short stories in the speculative fiction genre. You have to be 18 or over to enter, a Maryland resident or currently a student at a MD 2- or 4-year college, and you cannot either be a member of the Science Fiction Writers of America or meet the criteria for active SFWA membership as defined by the SFWA: http://www.sfwa.org/join-us/sfwa-membership-requirements/#shortfiction)." This contest is to help amateurs reach the next level, not assist those who are already there. BSFS Officers and Board members and the Chair, Vice Chair, and Department Heads for Balticon MAY NOT ENTER. Previous winners of the BSFS Amateur Writing Contest MAY ENTER if they still meet the other entry criteria.
Word minimum is 1,000 words. Word limit of 5,500 words. In other words, your story has to be at least 1,000 words, and cannot be more than 5,500. All submissions should be formatted using the standard short story submission format (courier font, 12 size, double spaced, etc. see William Shun's example here: http://www.shunn.net/format/story.html)
First page formatting example: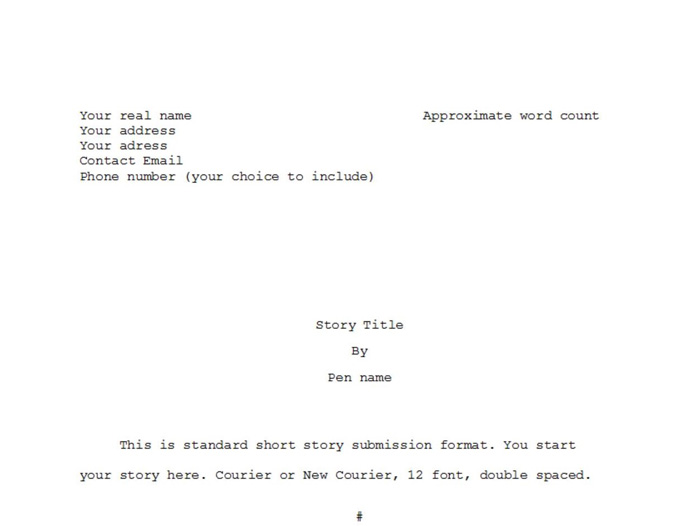 Body text formatting example: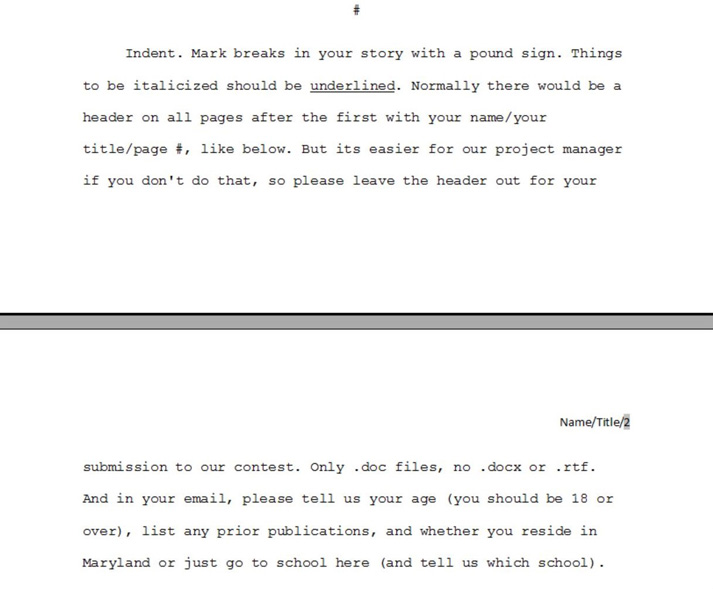 Is there an entry fee?
No. The contest is absolutely free to enter.
How many entries may I submit?
You may submit only ONE entry.
What are the prizes?
1st place is $250
2nd place is $100
3rd place is $50 The top three winners will be announced at the awards ceremony at Capclave (see top of page for date.) They will be invited to attend the convention and participate in the ceremony. Capclave (link www.capclave.org) is the convention put on by the Washington Science Fiction Association, which focuses on the short fiction form, and sponsors the WSFA Small Press Award. The first, second and third place winners will be invited to the next Balticon (link to www.balticon.org) to read from their winning entries. The top five entries will all receive free memberships to the next Balticon (link to www.balticon.org). Additionally, the first place winner will also have their piece, or a selection of the piece, published in next year's BSFSFan (see the FAQ below on publishing for more details.)
Who judges this contest?
BSFS members and volunteers.
How do I submit?
You can only submit electronically. The story should be in a word document and attached to an email sent to bsfs-amc at bsfs dot org. The subject heading should be "BSFS Contest Submission: [Insert story's title here]" Anything else will be deleted.
What are you looking for?
Gripping openings, quality stories, interesting characters, strong plots, powerful images, biting satire, unique word choice, touching endings. No explicit sex or gore please.
Do you accept fan fiction?
Due to copyright conflicts, do not submit fan fiction.
Do you accept poetry?
Not for this contest. We have a separate Balticon Poetry Contest.
Do you accept screenplays?
Unfortunately no. This contest was inspired by the spec fic short story markets, so is focused only on prose.
So I'm a writer who is under 18. What can I do?
Well you can't enter THIS contest, but we do have the Jack L. Chalker Young Writer's Contest.
I'm a writer based inside of Washington, D.C. or in Northern Virginia. Can I enter this contest?
No, sorry, you have to reside in or go to school in MD. You may want to talk to our friends at the Washington Science Fiction Association and ask if they'll start something up. At the least, you should go to the convention they run in southern Maryland every year in October called Capclave.
WSFA is here: http://wsfa.org
Capclave is here: http://www.capclave.org/
I'm a BSFS member/WSFA member/Maryland Writers Association member/Maryland Romance Writers/[insert other organization here], will I have an advantage?
NO, absolutely not. A project manager will remove all names and contact information from entries before giving them to the judges to read. Only the quality of your story will matter.
If I bring my piece to the BSFS critique circle to get critiqued, will I have an advantage?
Only in the sense that critique which addresses the flaws of a piece and serves to strenghten many elements (characters, story, diction, etc.) is always beneficial to both the writer and a piece. You can get that critique at the BSFS Critique Circle, but you could get it from other sources, too. In the meantime, although a couple (not all, not even most) of the judges do attend our critique circle and will happily offer any attendee feedback, each judge is different and might demand different things from a piece. Plus you have no way of knowing who will read your piece anyway. Plus, with the way that we're judging, eventually all of the judges will read and vote on pieces. Therefore trying to tailor an entry to a specific judge would be a terrible mistake. You just have to make the story as good as possible.
Are simultaneous submissions allowed?
No.
Are reprints allowed?
No. Please do not send us anything that has been published anywhere else, including on your own blog/website/Facebook.
I turn 18 before the contest ends. Can I enter?
As long as you turn 18 on or before the last day submissions are accepted (see date at top of page) and meet all of the other requirements, yes.
What if I get published in a professional magazine after I submit to the BSFS Contest?
If you submit, but get notified that you'll be published in a professional magazine before the last day submissions are accepted (see date at top of page), please let us know.
Can I collaborate on a piece with another Maryland resident?
Multiple authors are fine, but will have to split the prize money if they win.
How long does BSFS hold the printing rights to the story?
For the 1st place winner, we'll hold exclusive digital and physical printing rights until it is published in the BSFSFan for the next Balticon. The announcement of the winner is made at Capclave (see date at top of page); we hold the exclusive rights up to the first day of the next Balticon where we will publish it in the BSFSFan. Afterwards we hold non-exclusive rights to publish the story for up to 5 years from date of publication in BSFSFan. So years later we might decide to do an anthology of some kind of the winners (we would inform you beforehand), but after it's published in the BSFSFan, you may still submit your story elsewhere and have it published without our consent. We encourage you to attempt to get it published elsewhere.

For 2nd and 3rd place winners, we reserve the right to ask them if we may publish their stories on our website, or in an anthology of some kind. Otherwise we will not retain any publishing rights.
Will I be required to submit proof of residency and age?
Possibly. Please be prepared to submit proof of residency in MD (a bill, piece of mail, copy of ID, student transcript, etc.), as we do reserve the right to check that potential winners meet all requirements.
I have a question not addressed here. Where can I get it answered?
Send it to bsfs-amc at bsfs dot org.