For outstanding published works in science fiction and technical writings to inspire the human exploration of space.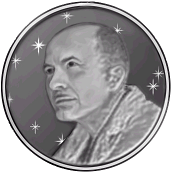 The physical form of the Robert A. Heinlein Award consists of a sterling silver medallion bearing the image of Robert A. Heinlein as seen to the left depicted by the artist Arlin Robbins. The medallion is matched with a red-white-blue lanyard. In addition the winner receives two lapel pins for use when a large medallion is impractical, and a certificate plaque designating the award suitable for home or office wall display.
The award committee consists of science fiction writers and is chaired by Dr. Yoji Kondo, a long time friend of Robert and Virginia Heinlein. Prior to 2013 the Baltimore Science Fiction Society provided logistical support for this award including processing of donations, manufacture of award materials, shipping and this webpage. Selection of winners was by a committee originally selected by Virginia Heinlein and not by BSFS as a group. As of 2013 the award is sponsored by the Baltimore Science Fiction Society and the committee members originally selected by Virginia Heinlein have joined BSFS and serve as judges in a selection committee.
Virginia Heinlein authorized multiple awards in memory of her husband. The Robert A. Heinlein Award is not the one fully funded by Virginia Heinlein's estate. This award is supported by independent donations from the interested public. To donate contact dale at bsfs dot org for details.
Winners of the Robert A. Heinlein Award:
2014 Geoffrey A. Landis
2013 Allen Steele and Yoji Kondo
2012 Stanley Schmidt
2011 Connie Willis
2009 Joe Haldeman and John Varley
2008 Ben Bova and Spider Robinson
2007 Elizabeth Moon and Anne McCaffrey
2006 Greg Bear and Jack Williamson
2005 Jerry Pournelle and Larry Niven
2004 Arthur C. Clarke
2003 Michael Flynn and Virginia Heinlein