The Baltimore Ray Gun Club is the science fiction/fantasy book discussion circle for BSFS.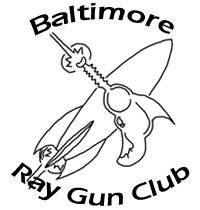 We meet on the fourth Saturday of the month at the BSFS clubhouse at 6:30 p.m., before the BSFS Social Meeting, to discuss and critique a book of choice.
We will discuss Eric Flint's 1632 on Saturday, February 25, at 6:30 p.m.
Feel free to bring your copy of the book for the discussion.
For more details contact bookdiscuss at bsfs dot org
E-mail addresses have been obfuscated to foil sp*mmer mining, so replace "at" with "@" and "dot" with "." before sending.