NOTE: During COVID times check the schedule at
index.html
to confirm if Zoom only or Zoom and in person.
The Speculative Fiction Critique Circle meets every 2nd and 4th Thursday at 6:30 p.m. at BSFS HQ. We sit in a circle and people who have brought pieces for critique take turns reading their work aloud. We quietly mark the paper with any suggestions we have as they're reading. Then afterwards we spend time discussing language, plot, characters, pacing, all that good stuff.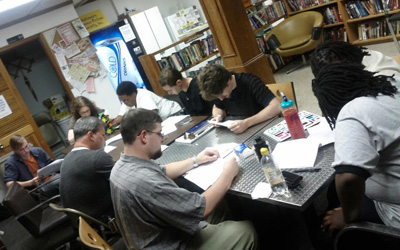 If you're going to present, bring 6 to 8 copies of a piece up to 2,500 words. For those with longer works, serialization is common.
We're a friendly, but very focused group of writers who go in-depth to critique the works we bring in. We never get personal, but we will provide deep, honest feedback. We've had many stories workshopped here published professionally, and our goal is to keep that happening by making stories as strong and sharp as they can be.
Of course, anyone who just wants to sit in, not present, and talk writing with us, is more than welcome to come by and do just that. For more information contact BSFSEvents at BSFS dot org
(E-mail addresses have been obfuscated to foil sp*mmer mining, so replace "at" with "@" and "dot" with "." before sending.)
The following prose and poetry were published after being workshopped at the BSFS Critique Circle:
Eric Bakutis:
"Rum's Daughter" - Fairly Wicked Tales anthology, August 2014
"Grieftaker" - InaccurateRealities, April 2014
"Jinny's Finest" - Demon Rum and Other Evil Spirits anthology, March 2014
Jeremy Gottwig:
"A Heart in the Hand" - Orson Scott Card's InterGalactic Medicine Show, December 2016
Alexander Monteagudo:
"Talking with Honored Guests" - Fantasy Scroll Mag, February 2016
"The First First Fire" - Fantasy Scroll Mag, November 2014
"Anywhere and Nowhere" - Flash Fiction Online, May 2014
"The Mismatched Sisters" - Mystic Signals, February 2014
Phil Myers:
"Hank the Delusionist" - Alternate Hilarities anthology
"The App of Solomon" - The Lorelei Signal, January - March 2017
"Chupi" Dark Moon Digest #28 - July 2017
"The App of Solomon" Lorelei Signal - 2020
"Baltimore Elf" Lorelei Signal - 2021
Sarah Pinsker:
"Today's Smarthouse in Love" - The Magazine of Fantasy & Science Fiction, May/June 2015
"Songs in the Key of You" - Asimov's Science Fiction, January 2015
"The Low Hum of Her" - Asimov's Science Fiction, August 2014
"There Will Be One Vacant Chair" - Long Hidden Anthology, 2014
"Headlong" - The Future Embodied Anthology, April 2014
"A Stretch of Highway Two Lanes Wide" - The Magazine of Fantasy & Science Fiction, March/April 2014 - 2014 Nebula nominee!
"The Transdimensional Horsemaster Rabbis of Mpumalanga Province" - Asimov's, February 2014
"They Sent Runners Out" - Fireside Magazine, February 2014
"Join Our Team of Time Travel Professionals" - Daily Science Fiction, July 18, 2013
"In Joy, Knowing the Abyss Behind" - Strange Horizons, July 1 and 8, 2013 - 2013 Nebula nominee; 2013 Theodore Sturgeon Memorial Award winner!
Christopher Mark Rose:
"Rushford Recapitulation" - Interzone, forthcoming
"Monstrance of Sky" - Escape Pod episode 555, December 22, 2016
"Sentiment Being Blues", Asimov's, March/April 2021 (Finalist, Asimov's Reader's Poll; Finalist, Kurt Vonnegut Prize);
"Ennead in Retrospect", F&SF, Jan/Feb 2022;
"Venus Exegesis", Asimov's, March/April 2022
"Kobold Domain Patch Notes", DreamForge, July 2020;
Rob Thornton
"Dark was the Night, Cold was the Ground" - Poplorish, February 2017
David Vaughan
"The Captain in Yellow" - The Cackle of Cthulhu, forthcoming
Ted Weber
Sleep State Interrupt - See Sharp Press, September 2016
The Wrath of Leviathan - See Sharp Press, 2018
Zero-Day Rising - See Sharp Press, 2020
Sherri Cook Woosley:
Walking Through Fire, Book 1 of The Misbegotten Series - Talos Press, 2018
"The Boy from Omran" - Pantheon Magazine, Tethys Issue (#12), Fall 2017
"1416 DeForested Lane" - Pantheon Magazine, Hestia Issue (#9), October 2016
"My Own Skin" in Once Upon a Dystopia: An Anthology of Twisted Fairy Tales and Fractured Folklore
"Mustangs and Colts" in Thrilling Adventure Yarns 2 by Crazy8 Press.
"At the Night Bazaar" in Black-Eyed Peas on New Year's Day: An Anthology of Hope. Book View Cafe
Karlo Yeager:
"Every Orphan Child to a Good Home Should Go" - Daily Science Fiction, October 2016
"Choices, In Sequential Order" - Nature Magazine, April 2016
"Clown Car, Driven Once, Never Emptied" - Clowns: The Unlikely Coulrophobia Remix, January 2016
"Doughboy Lovers and the Appetites of Desire" - PULP Literature Magazine, October 2014
John Zaharick:
"The Simulacrum Who Loved Me" - Stupefying Stories, forthcoming
"Anthracite Weddings" - Apex, December 2014
"Leiden Jar" - Plasma Frequency, November 2014
"After the Kaiju Attack" - Stupefying Stories, July 2013
"Fossil Fire" - The Colored Lens, May 2013
"Dysmorphic" - AE: The Canadian Science Fiction Review, April 2013
"Milk Witch" - Silver Blade Magazine, June 2013