The Baltimore Ray Gun Club is the science fiction/fantasy book discussion circle for BSFS.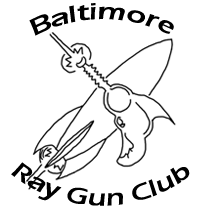 We meet on the fourth Saturday of the month at the BSFS Building (Except June, see calendar for picnic details) at 7:30 p.m., before the BSFS Social Meeting, to discuss and critique a book of choice. Zoom link is provided at all non-picnic book club meetings, see index.html for Zoom link. (Zoom works tech willing)
For book titles each month see the BSFS Calendar as it is updated!
Feel free to bring your copy of the book(s) for the discussion.
For more details contact bookdiscuss at bsfs dot org
E-mail addresses have been obfuscated to foil sp*mmer mining, so replace "at" with "@" and "dot" with "." before sending.