Take a tour of our Building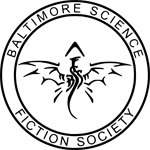 Boardgaming - GCOM/Alphabet Soup
Join us on the First and Third Thursday of each month for Boardgaming at Alphabet Soup, a Games Club of Maryland sanctioned event run by BSFS at the BSFS Building.
We play European strategy boardgames, Rail games, and any other games that interest the people attending. We start at 5:00 PM and end at 10:30 PM.
New players are welcome, you do not have to be a member of either Games Club of Maryland or Baltimore Science Fiction Society. Just come in the front door, we are in the room in back.
For more information on Games Club of Maryland Locations see https://www.gamesclubofmd.org/locations.asp
"Balticon" is a service mark of the Baltimore Science Fiction Society, Inc.
Copyright 2013. BSFS is a 501(c)3
non-profit organization.
Baltimore Science Fiction Society, Inc.
PO Box 686
Baltimore, MD 21203-0686
Phone: (410) JOE-BSFS (563-2737)
webmeister at bsfs dot org