Take a tour of our Building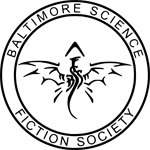 Science Fiction & Fantasy News Feed Sites
If you use one of these links you might be leaving the Baltimore Science Fiction Society's site. BSFS, Inc. is not responsible for the content of sites to which we link. We hope they might contain something to amuse or illuminate you, but we do not control them. If you feel the link might be inappropriate, let us know at:
"webmeister at bsfs dot org"
The RSS News agregator I had been using went out of business, so check out these SF News sites yourself using traditional links for now...
"Balticon" is a service mark of the Baltimore Science Fiction Society, Inc.
Copyright 2013. BSFS is a 501(c)3
non-profit organization.
Baltimore Science Fiction Society, Inc.
PO Box 686
Baltimore, MD 21203-0686
Phone: (410) JOE-BSFS (563-2737)
webmeister at bsfs dot org