Congratulations to the 2020 Compton Crook Award Nominees: Mike Chen – Here and Now and Then; Alix Harrow – The Ten Thousand Doors of January; Ada Hoffman – The Outside; Arkady Martine – A Memory Called Empire; Sarah Pinsker – A Song for a New Day.
Every new novelist starts somewhere. Some writers are exceptionally skilled (and/or lucky)and produce a big hit with their first book. Other writers' first novels show signs of future greatness as they gain experience. But too often, readers who see an unfamiliar name on the shelf will skip it, assuming that the book cannot be good or they already would have heard about the author. And many publishers cannot devote the same resources into a new writer's first book that they can put into a proven bestseller.
This is even more true in the modern age as new writers compete with more titles than ever. While the Internet makes it easy to find titles the reader knows about, the absence of real bookshelves on web bookstores makes it harder for a new book to catch the reader's eye serendipitously.
But new writers provide new voices so are vitally important to the field. New writers mean new ideas and new approaches that keep the field fresh. And someday, when all of today's writers have left us, someone needs to be writing for our children and our children's children.
That is why the members of the Baltimore Science Fiction Society, Inc. (BSFS) created the Compton Crook Award in 1982 to honor the best first novel of the year written by an individual author (collaborations are not eligible) in the Science Fiction/Fantasy/Horror genre. Since its inception, the award has been presented at Balticon — the four-day annual Maryland regional science fiction convention produced by BSFS, currently held on Memorial Day weekend in the Baltimore, MD area.
The award includes a framed award document and, for the novel's author, a check for $1,000 and an invitation to be the Compton Crook Guest at Balticon for two years. (This includes transportation and lodging at the Balticon host hotel for the author and her/his spouse/significant other/companion.) The first year the Compton Crook Guest is presented the award and the second year they are asked to present the new winner's award. For both Guest years, the author is offered opportunities to participate in Balticon events and program panels, present readings, and participate in autograph sessions alongside the Balticon Guest of Honor.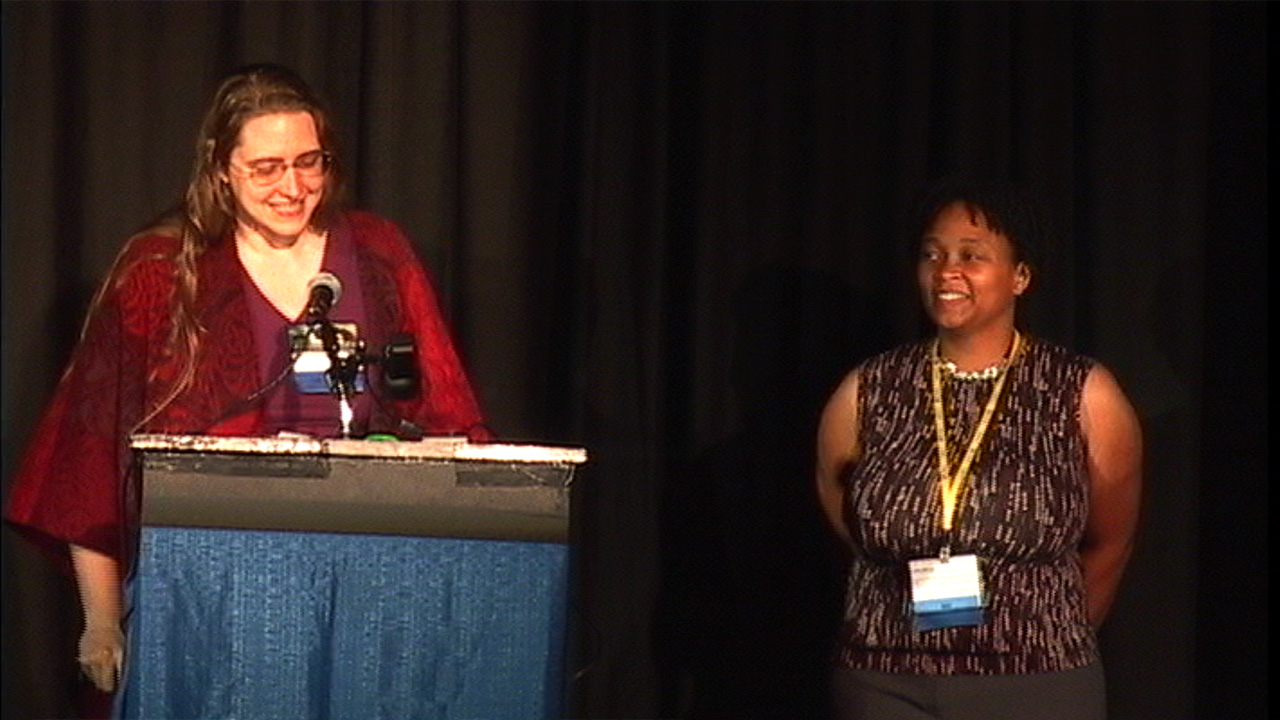 The Award was named in memory of Towson State College Professor of Natural Sciences Compton Crook, who wrote under the name Stephen Tall, and who died in 1981. Professor Crook was active for many years in the Baltimore Science Fiction Society and was a staunch champion of new works in the fields eligible for the award. The first Compton Crook Award was presented in 1983 for Donald Kingsbury's debut novel Courtship Right, a work published in 1982.
The Committee puts a lot of time and energy into finding novels which are eligible Compton Crook Award candidates. However, we cannot find everything and, as some writers use multiple pen names, we cannot always tell who is a new author. And keeping tabs on the small press and self-published books is even harder. So Agents and Publishers are encouraged to send us notice of any debut science fiction, fantasy or horror novels you are releasing or have released which you would like considered for the current award year. New authors please contact us with information about your book. This helps us to bring into consideration any novels our research might have missed.
Novels are read and rated by members of the club. We depend on publishers, authors, or their agents to send us four to six copies (and ebooks) of genre debut novels published between November of last year through October of the present year. See See Candidate Eligibility Requirements for eligibility and mailing information. The earlier we receive books (which can be Advance Reader Copies) the more time club members will have to read and rate them. We start accepting books in the summer. The Committee, at its discretion may exclude novels that do not meet its quality standards.
Preliminary voting is closed on midnight the Friday before the second Saturday in February. Finalists will be notified within 72 hours and offered an opportunity to provide additional copies of their candidate novel for the BSFS readers. PLEASE NOTE: While we will make every effort to notify the finalists, we may not be able to reach all them before the media learns the results. Due to demands on our time as our convention approaches, we may not be able to contact all the other writers. If your novel is a candidate and you have not, by the end of February, been contacted about being a finalist, you should check the finalist list on this website to make sure you have not missed our communication.
Final voting for the Award is closed at midnight the Friday before the second Saturday in April and within 48 hours the winner will be notified and extended a formal invitation to be our Guest at Balticon. One copy of each donated book is retained in the BSFS library and additional copies will be offered at the BSFS Books for Kids fund-raising auction at Balticon, to Baltimore City School libraries, or sold and/or distributed at other Fan Events as appropriate.